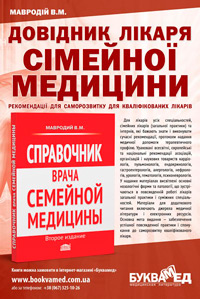 ---
СІМЕЙНІ ЛІКАРІ ТА ТЕРАПЕВТИ
---
НЕВРОЛОГИ, НЕЙРОХІРУРГИ, ЛІКАРІ ЗАГАЛЬНОЇ ПРАКТИКИ, СІМЕЙНІ ЛІКАРІ
---
КАРДІОЛОГИ, СІМЕЙНІ ЛІКАРІ, РЕВМАТОЛОГИ, НЕВРОЛОГИ, ЕНДОКРИНОЛОГИ
---
СТОМАТОЛОГИ
---
ІНФЕКЦІОНІСТИ, СІМЕЙНІ ЛІКАРІ, ПЕДІАТРИ, ГАСТРОЕНТЕРОЛОГИ, ГЕПАТОЛОГИ
---
ТРАВМАТОЛОГИ
---
ОНКОЛОГИ, (ОНКО-ГЕМАТОЛОГИ, ХІМІОТЕРАПЕВТИ, МАМОЛОГИ, ОНКО-ХІРУРГИ)
---
ЕНДОКРИНОЛОГИ, СІМЕЙНІ ЛІКАРІ, ПЕДІАТРИ, КАРДІОЛОГИ ТА ІНШІ СПЕЦІАЛІСТИ
---
ПЕДІАТРИ ТА СІМЕЙНІ ЛІКАРІ
---
АНЕСТЕЗІОЛОГИ, ХІРУРГИ
"Emergency medicine" Том 16, №4, 2020
A clinical case of persistent ventricular fibrillation on the background of Torsade de pointes syndrome and multiple electroimpulse therapy — defibrillation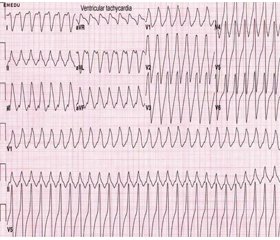 Authors:

Григор'єв С.В., Попович О.В., Воротинцев С.І., Каленський О.В., Брилев С.П. Запорізька міська лікарня екстреної та швидкої медичної допомоги, м. Запоріжжя, Україна Запорізький державний медичний університет, м. Запоріжжя, Україна



Categories:

Medicine of emergency



Sections:

Specialist manual
Summary
Проведене вивчення випадку персистуючої фібриляції шлуночків та ії лікування. Використані анамнестичні, електрокардіографічні, інструментальні дані вказують на наявність синдрому Torsade de pointes як ініціюючого фактора фібриляції шлуночків серця. Лабораторні дослідження підкреслюють важливість гіпомагніємії в патогенезі Torsades de рointes й ефективність лікування даних пароксизмів внутрішньовенним введенням 4 г 25% MgSO4.
Проведено изучение клинического случая персистирующей фибрилляции желудочков и ее лечения. Использованные анамнестические, электрокардиографические, инструментальные данные указывают на наличие синдрома Torsades de рointes как инициирующего фактора фибрилляции желудочков сердца. Лабораторные исследования выявили важность гипомагниемии в патогенезе и подтвердили эффективность лечения данных пароксизмов внутривенным введением 4 г 25% MgSO4.
A case of persistent ventricular fibrillation and its treatment have been studied. The history of the illness, as well as objective, electrocardiographic and instrumental data indicate the presence of Torsades de pointes syndrome as initiating factor for the development of ventricular fibrillation. Laboratory studies emphasize the importance of hypomagnesemia in the pathogenesis of Torsades de рointes and the expediency of treating these paroxysms with intravenous administrations of 25% MgSO4 4 g.
Keywords
торсади; Torsades de pointes; шлуночкова тахікардія; багаторазова дефібриляція; гіпомагніємія
торсады; Torsades de pointes; желудочковая тахикардия; многократная дефибрилляция; гипомагние­мия
torsades; Torsades de pointes; ventricular tachycardia; multiple defibrillation; hypomagnesemia
For the full article you need to subscribe to the magazine.
Bibliography
Cardiopulmonary Resuscitation (CPR). Updated Sept 2018 // https://emedicine.medscape.com/article/1344081 (overview).
Клиническая аритмология. Под ред. проф. А.В. Ардашева. Москва: Медпрактика-М, 2009. 1220 с. ISBN 978-5-98803-198-7.
Schwartz Peter J., Woosley Raymond L. Predicting the Unpredictable. Journal of the American College of Cardiology. 2016. 67(1). Р. 1639-1650. doi: 10.1016/j.jacc.2015.12.063. PMID 27150690.
Prediction of the Risk of Torsade de Pointes Using the Model of Isolated Canine Purkinje Fibres. British Journal of Pharmacology. 2005. 144. 3. Р. 376-385.
Yap Yee Guan, Camm A. John. Drug induced QT prolongation and torsades de pointes. Heart. 2017. 89(11). Р. 1363-1372. doi: 10.1136/heart.89.11.1363. ISSN 13556037. PMC 1767957. PMID 14594906.
Leenhardt A., Glaser E., Burguera M., Nürnberg M., Maison-Blanche P., Coumel P. Short-coupled variant of torsade de pointes. A new electrocardiograph icentity in the spectrum of idiopathic ventricular tachyarrhythmias. Circulation. Jan 1994. 89(1). Р. 206-215. doi: 10.1161/01.CIR.89.1.206.
Hoshino K., Ogawa K., Takashi H. et al. Successful Uses of Magnesium Sulfate for Torsades de Pointe sin Children with Long QT Syndrome. Pediatrics International. 2006. 48. 2. Р. 112-117.
2012 focus ed. update of the ESC. Guidelines for the management of atrial fibrillation. ESC, 2012. Наказ Міністерства охорони здоров'я України 15.06.2016 № 597 «Уніфікований клінічний протокол первинної, вторинної (спеціалізованої) та третинної (високоспеціалізованої) медичної допомоги «Фібриляція передсердь».